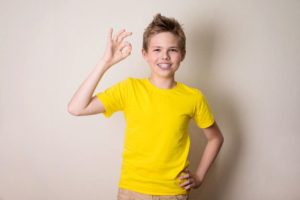 Phase 1 orthodontics, also known as pediatric orthodontics or interceptive orthodontics, is designed to guide the development of a child's oral structures, ultimately resulting in a healthier, more functional smile. Could your little one possibly benefit from this treatment? Read on below to learn more about it and some of the indications that your child might need it.
Phase 1 Orthodontics: The Basics
Phase 1 treatment is geared specifically toward children who do not yet have all of their adult teeth. Their jaws and permanent dentition are still developing, so it is possible to use appliances to guide these structures as they grow.
To find out whether your child could benefit from phase 1 orthodontics, they should have a professional evaluation by the time they are around 7 years old or so. This will give your family's orthodontist the chance to assess the positioning of your little one's oral structures and determine if and when treatment may be necessary.
This initial childhood visit to an orthodontist is important because if treatment is required, it should be started in a timely manner. It can help your child's jaws to develop properly, allow them to enjoy a healthy airway, and reduce, or perhaps even eliminate, the need for future orthodontic treatment
Indications for Treatment
Some orthodontic problems are possible to identify even for individuals with no professional training. If you notice any of the following, it is possible that your child could benefit from treatment:
Your child's teeth are noticeably crooked, rotated, or gapped.
There is misalignment in your child's bite. This might be noticeable in the form of a protruding or small chin (which can indicate an overbite or underbite). Open bites and cross bites are also things you should keep an eye out for.
Your child has speech difficulties.
Your child finds it difficult to eat foods of varying textures.
Your child frequently breathes through their mouth instead of their nose or experiences apneas (pauses in breathing) during sleep.
Your child is older than 5 and still sucks their fingers or thumb.
Of course, not all orthodontic issues are possible to identify at home. That's why it is so important to schedule a professional assessment. In addition to visually examining your child's teeth, your orthodontist will also take some X-rays in order to identify issues with the development of the incoming adult teeth.
What to Expect with Phase 1 Orthodontics
Phase 1 orthodontics may involve the use of braces or a removable oral appliance. Whichever is used in your child's case, you will have to work to help them establish a good routine that involves caring for their orthodontic gear and maintaining a clean mouth.
The total treatment time for phase 1 orthodontics can vary, but on average, most patients achieve results within 9 -12 months or so. Some kids (not all) need to undergo phase 2 treatment a few years after they finish phase 1. Phase 2 treatment is reserved for after all of the adult teeth have come in, which usually occurs in early adolescence or afterward.
Phase 1 orthodontic treatment has the potential to set your child up for decades of healthy smiles! To find out if your son or daughter is a candidate for it, talk to a qualified orthodontist.
Meet the Practice
Dr. Amin Mason and the team at Polaris Orthodontic Center offer many orthodontic services for both children and adults, including phase 1 treatment. If you suspect your child could benefit from our care, contact us at 614-781-6990.