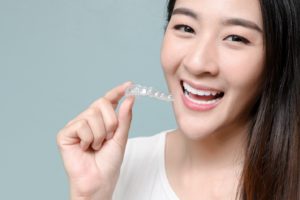 In discussions about Invisalign, we usually talk about moving the teeth. But what about moving things that are attached to the teeth, such as crowns, bridges, and veneers? Do these restorations negatively affect candidacy for Invisalign treatment? No, not usually. Let's talk about why that is the case and how your orthodontist can help you to achieve a straighter smile.
Restorations and Invisalign
If you have crowns or veneers on your teeth, the restorations may simply move as your teeth shift. However, your orthodontist might take your treatment a little more slowly than if you did not have any crowns or veneers. Also, keep in mind that if your veneers are disguising a gap between your teeth, and you want Invisalign to close the gap, it might be necessary to remove your veneers. Really, if you haven't yet gotten veneers, you should wait to purchase them until after your orthodontic treatment is complete.
If you have a bridge, it will not move during your Invisalign treatment. However, your aligners will still fit over it as the rest of your teeth are being repositioned. If it is necessary to move the teeth beneath a bridge, your dentist might have to remove your restoration and provide you with a new one after your orthodontic treatment.
Getting Started with Treatment
If you have restorations on your teeth, it would be advisable to visit your general dentist before you head to your orthodontist. Your dentist will check on the health of the teeth beneath the restorations and make sure that your restorations are securely in place. If any repairs or adjustments are necessary, your dentist can take care of that before you get started with Invisalign.
Does Invisalign Damage Dental Restorations?
Your orthodontist will do everything they can to minimize the risk of damage to your restorations. However, there is still a small chance that they will break or suffer from other problems. Veneers may carry the highest risk since they are quite thin. If something happens to any of your restorations while you are wearing Invisalign, your general dentist will be able to perform any necessary repairs or replacements.
The good news is that Invisalign presents a lower risk than traditional braces. That's because braces are actually bonded onto the teeth. They therefore apply direct pressure to veneers, crowns, and bridges. Invisalign isn't directly attached to any restorations, so it is gentler on them.
Crowns, bridges, and veneers can make orthodontic treatment a bit more complicated, but they are not an absolute contraindication for Invisalign. Your orthodontist will be happy to examine your mouth and talk to you about your teeth straightening options.
Meet the Practice
Dr. Amin Mason, a board-certified orthodontist, leads the team at Polaris Orthodontic Center. We offer Invisalign and a range of other treatments. We have the skill and experience necessary to handle even complex cases. If you are ready to attend an orthodontic consultation or have questions about any of the services we provide, contact us at 614-781-6990.