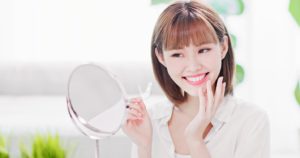 Once you finish your course of treatment with Invisalign or braces, you must wear a retainer in order to maintain your results. But what if you become a little lax with retainer wear over time? You might find that your teeth shift out of place. Can wearing your retainer re-straighten your smile? Let's talk about the answer to that question.
What Are Retainers Designed For?
There are several different types of retainers, but they all serve the same basic purpose: to hold the teeth in place following orthodontic treatment. They are necessary because, believe it or not, teeth have a sort of "memory," which means they are prone to regress back to their original positions once the pressure from braces or Invisalign is gone. Retainers prevent that memory from taking over and undoing your months (or years) of hard work with orthodontic treatment. Failure to wear your retainer as much as recommended could result in backwards progress for new smile.
When Can Retainers Re-Straighten Teeth?
If you haven't worn your retainer as much as recommended, starting to wear it now might move your teeth back into your proper positions. This could be a possibility for you if your teeth have moved very little from their ideal places. Before you attempt to use your retainer to shift your teeth, however, it would be wise to consult with your orthodontist, especially if your retainer is old or has visible signs of wear and tear. Not only can your orthodontist provide you with a new retainer if necessary, but they will also inspect the positioning of your teeth and bite to determine how severe the regression is.
When Can Retainers Not Restraighten Teeth?
If your teeth have moved significantly, it is possible that you will not even be able to get your retainer to fit on them. If you can get it onto your teeth, it might feel extremely tight or even painful. If that happens, do not continue to use it; you could accidentally damage your teeth. Instead, give your orthodontist a call.
Depending on how far your teeth have drifted out of place, you might need to undergo a new course of treatment with Invisalign or braces. Fortunately, if you have to commit to retreatment, it is unlikely that you will need to wear your appliances for a long time. It might take as little as a few months to shift your teeth back into their proper positions.
Retainers are meant to hold teeth in place — not to reposition them. Before you try to reverse regression with your retainer, talk to your orthodontist. They will tell you how you can safely and efficiently reclaim a straight, healthy smile.
Meet the Practice
Dr. Amin Mason of Polaris Orthodontic Center is proud to offer a full range of orthodontic treatments, including braces, Invisalign, and various types of retainers. If you have noticed that your teeth have drifted out of place, he and our team would be happy to help you correct the problem. Contact us at 614-781-6990.