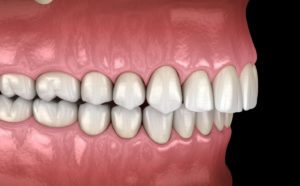 To say that orthodontic treatments "straighten teeth" is really an oversimplification of what they accomplish. Their goal is to align the teeth in a way that improves oral function, reduces the risk of future oral health problems, and enhances facial aesthetics. They can even address issues with the way the teeth come together and thereby promote harmonious occlusion (bite). With that being said, you might wonder which orthodontic treatments can fix bite problems like overbite and underbite. Is Invisalign among them? In many cases, the answer is yes. Let's discuss how it may be able to help you find freedom from a bad bite.
The Process Begins with a Personalized Consultation
Before designing your treatment plan, your orthodontist will carefully analyze the positions of your teeth and jaw. This may involve a visual examination, X-rays, and the use of advanced 3D imaging technology. Once your orthodontist evaluates the data they collect and learns a bit about you as a person, they will talk to you about your treatment options.
Invisalign is able to address many cases of malocclusion (a bad bite). However, it isn't ideal for everyone. For patients with severe bite problems, metal braces or even surgery might be necessary. Your orthodontist will thoroughly explain the reasons behind any treatment recommendation they make.
Your Treatment Journey
Invisalign works by applying sustained pressure to the teeth in order to shift them into their proper positions. By itself, it might not be able to correct bite problems. You may also need to use other orthodontic devices. For example, many patients with an overbite must wear elastics, which are small rubber bands that hook onto Invisalign and help to reposition the jaw.
Also, keep in mind that before you begin using Invisalign, you might need to have one or more teeth extracted. Dentists and orthodontists try to avoid tooth removal if possible, but it is sometimes necessary in order to make room for your teeth and bite to come into proper alignment.
The overall timeline for your treatment journey will depend on the severity of your bite problems. You can make the process as smooth as possible by complying with your orthodontist's instructions for wearing your aligners and other appliances.
After Invisalign
After you finish your Invisalign treatment, you'll need to wear your retainer as instructed by your orthodontist. If you do not, relapse is a real possibility. Most patients must wear their retainer as much as possible during the first several months after they complete Invisalign. Later, they graduate to wearing their retainer only at night.
Are you concerned about the way your bite problems are affecting your oral health or your facial aesthetics? Invisalign treatment might be your ideal solution.
About Our Practice
Dr. Amin Mason and the team at Polaris Orthodontic Center are proud to serve patients throughout the Columbus area. Invisalign is one of the many orthodontic treatments available in our office. If you would like to learn if it could help you find freedom from your bite problems, contact us at 614-781-6990.