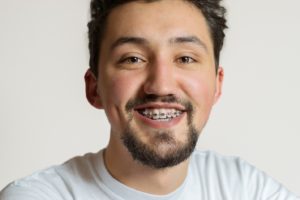 If you ask different people who have worn braces in the past what the treatment feels like, you may get a variety of answers. Some people might even have some complaints that make you nervous about your plans to get braces. Really, though, there is no need for you to worry. Braces may feel strange in your mouth, but the modern version of this treatment is more comfortable than the braces of generations past. In this blog post, we'll talk more about what it feels like to get braces and what you can expect when your mouth is adjusting to them.
The Placement Appointment
Most patients do not feel any pain while their braces on being placed on their teeth. However, some mild discomfort is normal. This occurs because you will have to keep your mouth open for a significant period of time as the orthodontic team place the brackets that will straighten your smile.
Additionally, you might get a taste of the material that is being used to attach the brackets to your teeth. It's not delicious, but it does not hurt.
Adjusting to Braces
Within a few hours of your placement appointment, your teeth may begin to ache. That's actually a good sign! It means that your braces have begun their work of applying pressure to your teeth in order to move them into their proper positions. The sensation can be annoying, but it is tolerable. If necessary, you can take some over the counter pain relievers to mitigate your discomfort. Sipping on cool water may also help. If your braces ever do cause you severe pain, that's a sign you should contact your orthodontist ASAP.
Also, since braces are a foreign object in the mouth, you might notice that you are producing more saliva than you used to. You might need to spit occasionally or sip on some water to deal with the extra fluid production. Also, keep in mind that while extra saliva may not be pleasant, it is actually beneficial for your oral health because it helps to rinse away bacteria and food particles that might be lingering in your mouth.
Most patients stop noticing their braces within the first week or two (with the exception of when they get their braces adjusted). Before you know it, your braces may become just a normal part of your daily life! And when your orthodontic treatment is finished, you will enjoy all the rewards of a well-aligned, healthy smile.
About the Author
Dr. Amin Mason is a board certified orthodontist in the Columbus area. He is a Diplomate of the American Board of Orthodontics. He offers a number of orthodontic treatments, including traditional metal braces, clear aligners, and more. If you have questions about how you can achieve a straighter smile, contact our office at 614-781-6990.