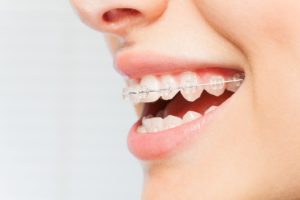 Many adults love the idea of clear braces in Columbus. After all, they might feel that traditional metal braces would draw too much attention and might even make them look like an adolescent. However, they might hesitate to commit to clear braces because they are under the impression that clear braces take longer to be effective than traditional metal orthodontics. Is that true? An expert orthodontist is here to discuss this important topic.
Treatment Time Clear and Metal Braces
The best way to find out how long clear braces will take to straighten your smile is by visiting an orthodontist who offers them. After the orthodontist examines your teeth, they'll be able to make an educated guess as to how long treatment will take. On average, treatment with clear/ceramic braces lasts 12 – 36 months.
The average treatment time with metal braces is around 20 months. However, depending on the degree of the orthodontic issues being addressed, metal braces might take up to 36 months to complete their job.
How Do They Compare?
The above average treatment times might make it seem like it doesn't really matter which type of braces you choose if you want your teeth to be straightened as quickly as possible. However, it is important to keep in mind that for comparable cases of orthodontic misalignment, clear braces do tend to take longer than metal braces. The average treatment timelines are similar only because clear braces are not typically used to address severe misalignment.
Why do clear braces take longer? Because they are more fragile than metal braces. They may break easier which can increase your treatment time. Also, clear braces are generally made of ceramic which has more friction during orthodontic tooth movement. Increased friction with the bracket and wire interface can slow down the tooth movement.
Are Clear Braces Worth the Extended Treatment Timeline?
If you are a candidate for either clear braces or metal braces, you have an important decision in front of you. Many adults believe that the superior aesthetics of clear braces are worth a slightly longer treatment time. After all, you will be wearing the braces for a significant period of time anyway. A few more months of caring for your braces will make little difference in the long run. Plus, in the meantime, you will get to enjoy the confidence that comes with having a smile that isn't plagued by dark brackets and wires.
If you do not want clear braces, but you are still searching for an aesthetically pleasing way to straighten your teeth, ask your orthodontist in Columbus about alternative options. For example, you might be a candidate for clear aligners or lingual braces.
The Bottom Line
Clear braces often take longer than metal braces, but for many patients, the aesthetic advantages make clear braces worth the investment of a little extra time. If you cannot decide which teeth-straightening treatment you would like to pursue, talking to a qualified orthodontist can help you make a confident, well-informed choice.
About the Author
Dr. Amin Mason is the accomplished, board-certified orthodontist at Polaris Orthodontic Center. His advanced training qualifies him to offer clear braces, metal braces, lingual braces, Invisalign, and more. If you would like to talk to him about how you can achieve straighter teeth, contact our team at 614-781-6990.