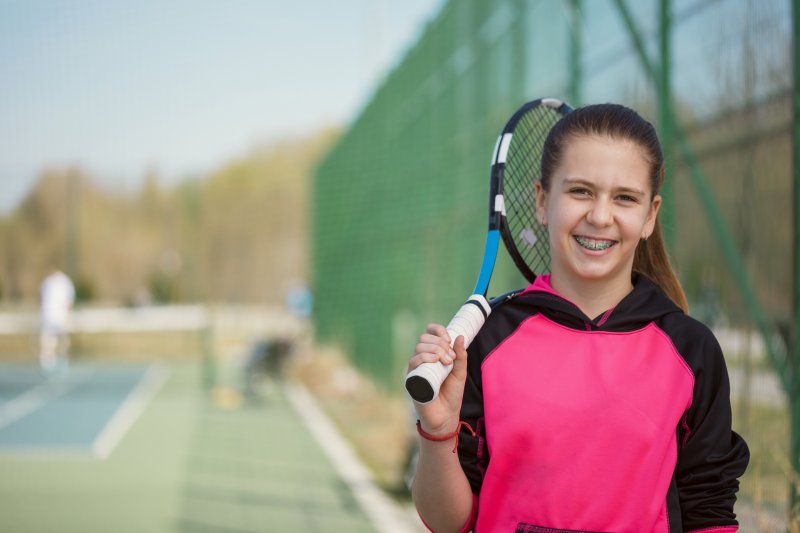 As a parent, you might be nervous and apprehensive about your child's decision to play certain sports. Between flying tennis balls and hard-hitting tackles, it's enough to raise your heart rate. No one wants to see their child get hurt, so when an unprotected mouth takes a hit, it can result in serious injury, especially when braces are involved. Fortunately, your orthodontist in Columbus has ways of protecting your child's mouth while playing the sports they love. Find out what you can do to make sure their teeth, gums, and braces stay intact and injury-free on the field.
The Effect on Braces When Injury Occurs
It's that moment you dread: Your child is hurt, and you're scrambling to make it through the stands and onto the field. As you see them holding their hands over their mouth, you immediately envision busted brackets, wires poking out, bleeding gums, and broken teeth.
When an accident like this occurs and the child is wearing braces in Columbus, it's important that the first step you take is to call your orthodontist and alert them of the situation. Based on the information provided, they can determine if it's an emergency or not.
Depending on the severity of the injury, there are steps you can take until you can get your child in to see their orthodontist, including:
Try to stop any bleeding and clean the area to determine where damage has occurred.
If a tooth is knocked out, try to retrieve it and take it with you to the appointment.
Apply ice to any soft tissue areas that might be damaged (i.e. cheeks, lips, gums) to reduce swelling.
If pain is too severe or bleeding will not cease, take your child to your local emergency room.
Protecting Their Smile
The best course of action is to have your child fitted with a mouthguard before they even begin practice. Depending on the materials your orthodontist will use, a custom mouthguard can be crafted using silicone. An orthodontic mouthguard is typically larger than traditional ones. This is so that your child's braces will have adequate space. This will prevent their teeth, brackets, and wires from coming into contact with the lips upon impact.
By using this small orthodontic device, you and your child can have greater peace of mind when they take to the field or court.
Braces and sports can go together as long as you take proper precautions. With the help of an orthodontic mouthguard, you can enjoy watching your child engage in a sport they love. While your heart rate might never be "normal" while in the stands, you can feel confident knowing their mouth and smile are properly protected.
About the Author
Dr. Amin Mason is a board-certified orthodontic specialist who attended The Ohio State University for his undergraduate degree in Electrical and Computer Engineering. After graduating, he went on to attend The Ohio State College of Dentistry, earning his dental degree. Completing his one-year craniofacial research fellowship at the University of Kentucky, he enrolled at the University of Colorado, Denver, and earned his certificate in orthodontics and a Master of Science in Dentistry. Dr. Mason's practice is an official sponsor of high school athletics, and he wants to make sure your child's braces and smile are protected from any flying balls or hard hits. To find out more about effective methods of mouth protection, visit our website or call (614) 549-5835.