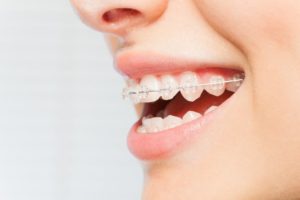 If you have misaligned teeth as an adult, you might think you're too old for orthodontic treatment, but this isn't necessarily the case! Orthodontists see patients of all ages. For patients who are concerned about comfort or appearance, there are various types of treatment options such as Invisalign available in Columbus. If you've been wishing to straighten your smile, here are some of your options:
Clear Ceramic Braces
Ceramic braces are similar to traditional metal braces in that they employ brackets and wires placed on the front of your teeth. However, the ceramic brackets are clear and are thus able to better blend in with the natural tooth, creating a more aesthetically pleasing look. These braces are usually used to on the upper teeth.
Lingual Braces
This treatment option places the brackets and wires on the back of the teeth. They're often considered "invisible" because they can't be seen from the front. They can affect your speech, so you may want to practice talking with them; also, their location can make them harder to clean, meaning excellent oral hygiene will be required.
Invisalign
A very popular option among teens and adults, Invisalign is a series of clear, removable aligners that move the teeth over time. Not only are the aligners less visible than metal braces, but they can also be removed while eating, meaning there aren't any diet restrictions. This also makes it easier to brush and floss normally.
Note that with Invisalign, each aligner is used for a set period of time; your orthodontist will let you know when it's time to move on to the next one, although adjustments to the schedule might need to be made depending on the patient. Also keep in mind that while Invisalign is removable, you'll need to keep the aligner in for at least 22 hours a day; otherwise treatment time could be extended.
Self-Ligating Braces
Appearance-wise, self-ligating braces resemble traditional braces except the wire is held in place by a metal door on the bracket itself instead of colored ties. This design can make orthodontic appointments faster, as opening and closing the doors is simpler than applying the ties. Orthodontists usually use self-ligating braces to reduce the likelihood for extraction of teeth.
Traditional Metal Braces
Traditional metal braces are still used by orthodontists for certain type of patients including cases where patients have spaces or when a patient wishes to have colors on their braces.
The best orthodontic treatment for you will often depend on the extent of the movement you need as well as your budget. Talk with your orthodontist about the options available; they can help you decide on the solution that'll work best for improving your smile.
About the Author
Dr. Amin Mason is a board-certified orthodontic specialist at Polaris Orthodontic Center. Dr. Mason has great amount of experience in treating adults and children using modern orthodontic techniques. To schedule an appointment, visit his website or call (614) 781-6990.