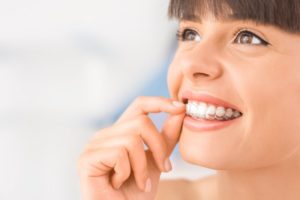 A common misconception is that braces are just for kids. The danger of this myth is it hinders many people from fixing their gapped, misaligned, crooked or crowded teeth. The reality is the options for adult braces in Columbus have expanded greatly. Learn about the different ways you can get the smile you've always wanted as you continue reading!
Traditional Braces for Reliable Results
Although they've been around for decades, traditional braces are still a very effective way of correcting bite problems. Using a system of applied tension to move teeth, they rely on the following components to work effectively:
Brackets – The first part of the installation procedure is for brackets to be bonded to the teeth. These small metal pieces act as anchors that secure the different parts of the braces.
Arch Wire – The necessary tension is provided by an arch wire that's placed in front of each set of teeth. Usually, every four weeks, you'll visit your orthodontist to have the wire tightened and clipped to ensure continued progress.
Bands – The final parts are the bands, which are small flexible pieces of material that are woven into each bracket. Their function is to aid in properly aligning your jaw to address such issues as "over-bite" or "under-bite."
A Clear Smile with Invisalign
An alternative to traditional braces is the Invisalign method. It uses a series of clear, plastic trays to gradually and comfortably move your teeth to the right position.
So instead of metal brackets and wires that need to be adjusted, you'll simply wear each set of trays for two weeks. You'll then exchange them for the next set in the series, following this pattern throughout the entire process.
Every six-to-eight weeks, the orthodontist may invite you in to have your smile assessed and to make sure you're staying on track with the treatment plan. Typically, you can complete the Invisalign process in a fraction of the time required for braces.
Clear Braces for Durability and Aesthetics
If you're looking for a discreet process like Invisalign while experiencing the assuredness that comes along with traditional braces, the clear braces option may be what you're looking for.
While using the same system of brackets, wires and bands to adjust teeth, clear braces offer an aesthetic upgrade. That's because the brackets and bands are made from clear, ceramic material, and the wires are tooth-colored.
Advanced Orthodontics with Self-Ligating Braces
A subtle yet innovative tweak to traditional braces comes in the form of self-ligating braces. Instead of relying on bands to hold each arch wire in place, this type of bracket utilizes a built-in door to secure the wire.
Then, by the tension being more effectively distributed, the teeth are able to shift in a more natural manner.
The Advantages of Lingual/Hidden Braces
A final option for straightening your teeth is to receive lingual/hidden braces. Using either the Incognito or Harmony method, your orthodontist will custom-design the appliances using state-of-the-art digital technology.
Unlike other forms of orthodontics, the adjustments are made from behind the teeth, which provides the ultimate in discreet care.
With so many options, you may be wondering how to determine which route is best for you to take. This is where a consultation becomes so vital.
It first starts with having your mouth and teeth assessed. Then, based on your specific needs, you can work with the specialist to develop the best plan.
To get on track with creating the smile of your dreams, reach out to your local orthodontist today!
About the Author
A graduate of The Ohio State University College of Dentistry, Dr. Amin Mason is a board certified orthodontic specialist. To stay current with the latest developments in orthodontic care, he maintains professional affiliation with the American Association of Orthodontics, and he's a Diplomate of the American Board of Orthodontics. Dr. Mason creates dazzling smiles at Polaris Orthodontic Center, and he can be reached for more information through his website.